OnePlus Nord 3: The Ultimate Mid-Range Smartphone
Introducing the OnePlus Nord 3, the latest offering from OnePlus that aims to make a significant impact in the mid-range market segment. With remarkable features such as the powerful MediaTek Dimensity 9000 processor, a stunning 6.7-inch AMOLED display boasting a smooth 120Hz refresh rate, and an impressive triple-lens rear camera system, the Nord 3 truly stands out as a top-tier smartphone.
Design and Display
The OnePlus Nord 3 boasts an elegant and captivating design that is guaranteed to catch the eye. Crafted using premium materials, it is available in a range of attractive colors to suit every individual's taste. The 6.7-inch AMOLED display is among the best in its class, delivering a crisp 1080 x 2400 pixel resolution and an incredibly fluid 120Hz refresh rate. Moreover, with HDR10+ certification, the display ensures a breathtaking visual experience while enjoying your favorite movies and TV shows.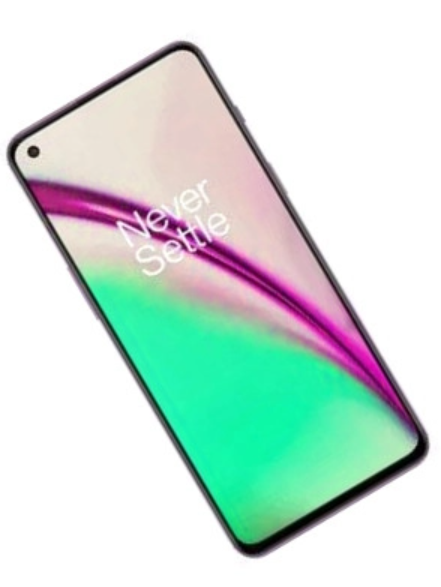 Performance
Powered by the mighty MediaTek Dimensity 9000 processor, the OnePlus Nord 3 excels in terms of performance, leaving a lasting impression. The Dimensity 9000, built on an advanced 4nm manufacturing process, features an octa-core CPU with an impressive maximum clock speed of 3.05GHz. Additionally, the Nord 3 is equipped with 8GB of RAM and 128GB of storage, enabling seamless multitasking and smooth operation of resource-intensive applications.
Camera
The OnePlus Nord 3 houses a cutting-edge triple-lens rear camera system designed to capture stunning photos and videos. At its core is a 64 MP + 8 MP + 2 MP, delivering exceptional image quality. Accompanying it is an 8MP ultrawide sensor boasting a wide 120-degree field of view, perfect for capturing expansive landscapes. Finally, a 2MP macro sensor allows for detailed close-up shots. On the front, you'll find a 16MP sensor with an f/2.4 aperture, ensuring remarkable selfie captures.
Battery and Software
Fueling the OnePlus Nord 3 is a robust 5000mAh battery, featuring support for 80W fast charging. This impressive capability means you can fully charge your phone from 0 to 100% in a mere 30 minutes. Additionally, the Nord 3 operates on OxygenOS 13, a customized Android skin renowned for its clean and user-friendly interface design.
Price and Availability, Oneplus nord 3 launch date:
Anticipated to be available in India starting June 21, 2023, the OnePlus Nord 3 will have a starting price of ₹27,999 for the 8GB/128GB model.
In conclusion, the OnePlus Nord 3 is a fantastic option for those seeking a high-performing and stylish mid-range smartphone. Its powerful processor, captivating display, and versatile camera system are bound to leave a lasting impression.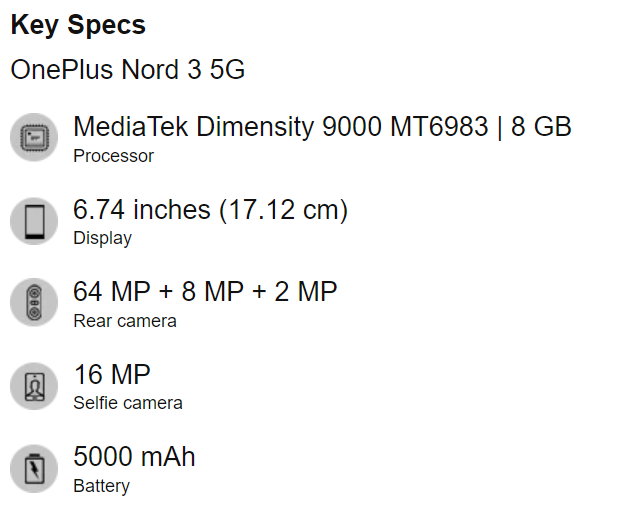 Here are a few additional noteworthy details about the OnePlus Nord 3:
It retains the 3.5mm headphone jack, allowing for hassle-free audio connectivity.
The fingerprint sensor is conveniently located under the display, ensuring easy and secure unlocking.
With a stereo speaker system, the Nord 3 provides immersive audio experiences.
Its water-resistant design offers protection against accidental splashes or light rain.
Rest assured, the OnePlus Nord 3 comes with a 1-year warranty for added peace of mind.
If you're in search of an outstanding mid-range smartphone, the OnePlus Nord 3 should definitely be at the top of your consideration list.
Also Read: Best budget phone under 15k